KELAMIX P-40 Fe
S47991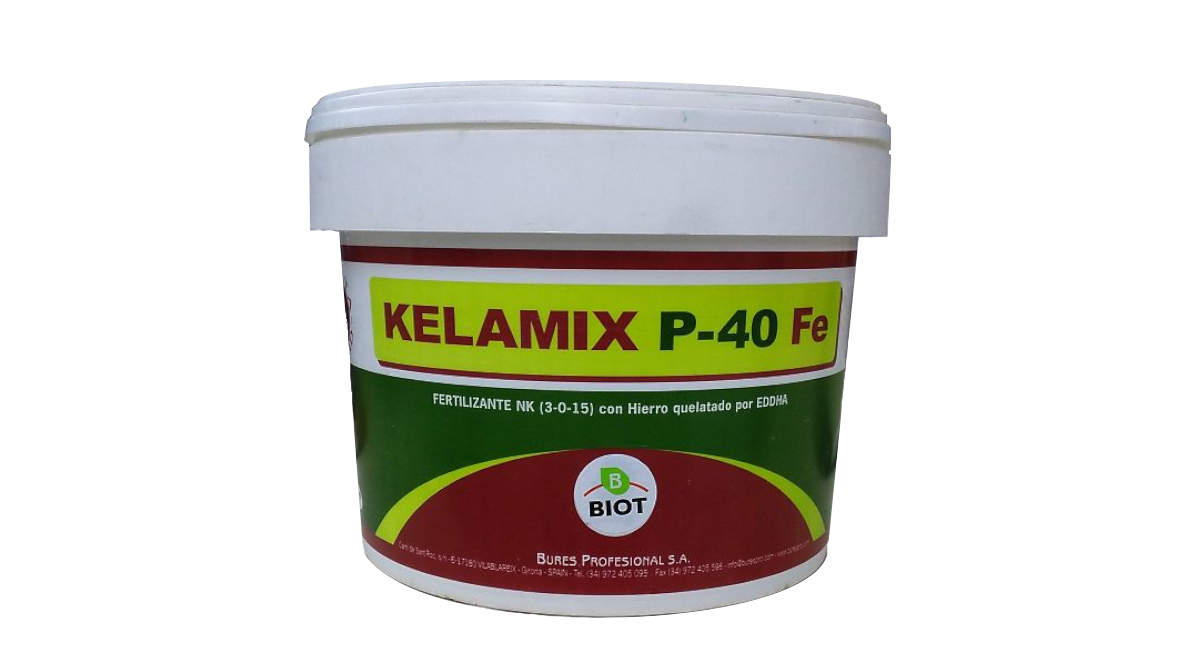 Request product information
KELAMIX P-40 Fe is an NK (3-0-15) fertilizer with iron (2.4% Fe as EDDHA) presented in menigranulated form to facilitate treatments against ferric chlorosis.
Iron deficiency causes various types of chlorosis that can seriously impair the normal development of the crop. The wide range of stability of KELAMIX P-40 Fe (pH 4 to 9) makes it suitable for all types of soils and especially in those in calcareous and / or alkaline and in the poor in organic matter where the huerro blocks more easily.
Characteristics
KELAMIX P-40 Fe can be mixed with any type of fertilizer if the needs require it and if the characteristics of the formulation of both products allow it. Its application is recommended under agrochemical technical advice.
KELAMIX P-40 Fe has been designed to be applied directly to the ground, evenly spreading the mini-granules around the tree or shrub in the drip area. In herbaceous crops spread all over the surface.

GUARANTEED RICHES
Total nitrogen (N): 3%
Urea Nitrogen (N): 3%
Water soluble potassium oxide (K2O): 15%
Water soluble iron (Fe): 2.4%
Iron (Fe) chelated by EDDHA (ortho-ortho isometer *): 1.44%
PH stability margin: 4-9
[* Method EN-13368-2]
Application
KELAMIX P-40 Fe can be applied at any time of the year, it is advisable to apply it before sprouting, as a preventive measure or when the deficiency appears, as a cure. As treatment is delayed the dose should be increased proportionately.
In horticultural crops and floriculture, the treatment must always be carried out when the planting takes place or the vegetative activity begins.
For more information contact our technical department.
Presentation
KELAMIX P-40 Fe comes in 5 kg drums.
Format / Sizing:
5 Kg. (drum)
S/P: 60
Ref: S47991
Request product information