FULVIK Ca PLUS
S45820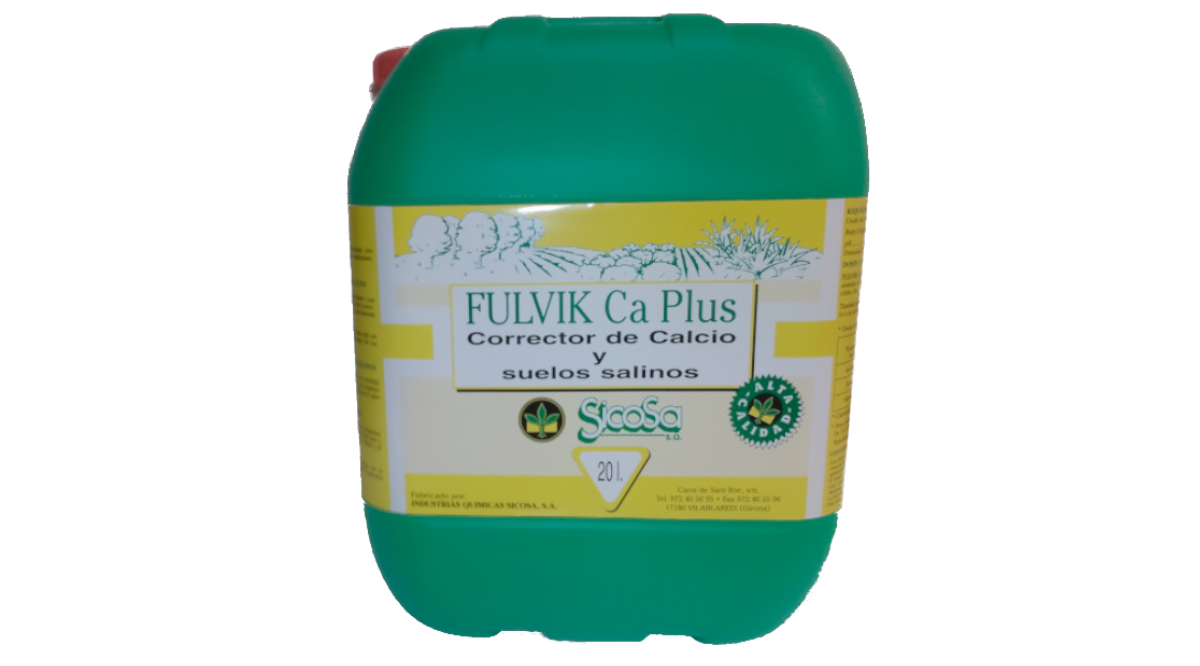 Request product information
FULVIK Ca PLUS is a corrector of CALCIUM, in liquid form formulated with Fulvic Acids and Gluconic Acids as a complexing base, which give it a "MULTIPLE ACTION".
CORRECTORS FOR CALCIUM DEFICIENCIES
Because of its high content of Calcium (Ca) chelated with Fulvic Acids and Gluconic Acid, it is an excellent corrector of the deficiencies of this element, being especially recommended in sensitive crops such as:
Apple tree (Better Pit), Tomato and Pepper (Blossom end rot "apical necrosis"), Lettuce (Tip Burn "leaf edge burn"), etc.
SODIUM-SALINE SOIL CORRECTOR
It has the particularity of being able to exchange SODIUM (Na +) for CALCIUM (Ca +) by moving it from the clay-humic complex, which facilitates its subsequent washing with irrigation water.
SODIUM SOIL CORRECTOR
Due to its Organic Matter content, it improves the physical structure of this type of soil, facilitates the circulation of air and water, increases the cationic exchange between Calcium and Sodium.
FULVIK Ca PLUS is registered in the Fertilizer and Related Registry of the General Directorate of Agricultural Productions and Markets with No. 2361/01.
Characteristics
GUARANTEED RICHES
Calcium oxide (CaO) soluble in water: 10% w / w. and 12% w / v.
Complexing Complex: Fulvic Acids and Gluconic Acid.
pH: 5.5
Density at 20ºC: 1.2
Application
FULVIK Ca PLUS, can be used through any irrigation system (drip, spray, micro-spray, exudation), etc.
It can also be applied in traditional irrigation dosing it to the water inlet.
Presentation
FULVIK Ca Plus is served in 5L drums.
Format / Sizing:
20 l. (tub)
Ref: S45820
Request product information